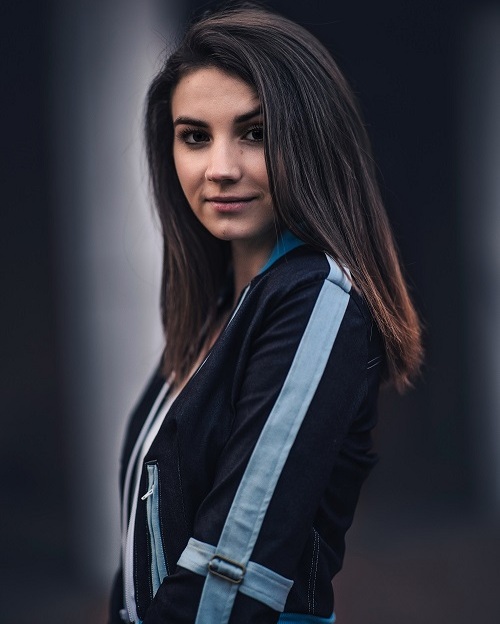 "I am on an exciting journey to embrace life and create beauty along the way. I have always wanted to be a fashion designer. These last two years as a student in the CARS program at UNCG, I have realized that designing for a profession is something that is achievable. Designer Vera Wang has said, "Success isn't about the end result, it's about what you learn along the way." From the beginning, I have been blessed with the full support of my friends and my family who have given me the confidence to pursue my dreams. After two years in community college, moving out on my own, and away from my hometown, I am continuing that journey here in Greensboro. I have been able to dive head first into sewing and designing, both things I dearly love. Although I still have a lot to learn, I want to encourage others who are striving toward your own goals. When things are difficult, remember to do your very best; do what is good; and simply put, do you."
April Whiting is an independent designer from Wilmington, NC . Finding her passion in arts and fashion at an early age, April has always found this to be an outlet for self expression. She uses her keen eye for style to add unique detailed elements to each look . Inspiration for collections come from her love of nature and floral elements, as well as the lines and structure seen in architecture. The brand April Jayne aims to inspire women to find their voice and confidence through vibrant, tailor made garments. A look for every version of you.
Jatcie Williams is the Owner and Lead Designer of Outclassed by Jatcie. A recent graduate of University of North Carolina at Greensboro with a degree in consumer, apparel, retail studies and business. Her passion for fashion and design found her at an early age when her mother gifted her with custom, handmade doll clothes. In 2014, she took the leap of faith and launched her brand that has found local and national recognition. She's been afforded amazing opportunities such as acceptance at New York Fashion Week to show a collection, designing for weddings and celebrities. She loves textured fabrics and anything vibrant that says fun and classy. Her ultimate goal is to elevate the personal style of every Outclassed woman to empower them to be the best version of themselves through fashion.

"Ever since I touched a sewing machine at the age of six, I was hooked. Throughout my childhood you could always find me sketching dresses during church or tying socks together with string to make gowns for my barbie dolls. The idea that you could take a simple piece of fabric and mold it into whatever you wanted was amazing to me. From that point on I devoted my life to creating fashion to make myself and others feel confident. Now that I am in my second year as an Apparel Design student at the University of North Carolina at Greensboro, I have learned the tools to be able to truly bring my ideas to life. I look forward to continuing this journey and leaving my mark on the fashion industry, both here in my home state of North Carolina and abroad.